We're less than a week until the start of WVU's 2007 football season! I really can't wait. Kick off is Saturday at 3:30 pm. The weather is supposed to be in the 80's and only a 10% chance of rain. Sounds like a perfect day for the start of football.
The weather will be a welcome change. The last two time's I've watched the Mountaineers at home it has snowed.
This is Treah and I after the 2006 WVU vs Rutgers game, this was the home closer last season. I think Doug took it with his cellphone. We beat Rutgers in triple overtime even with our starting QB, Pat White, out (injured) for the entire game. I don't remember how cold it was that night, but It was cold.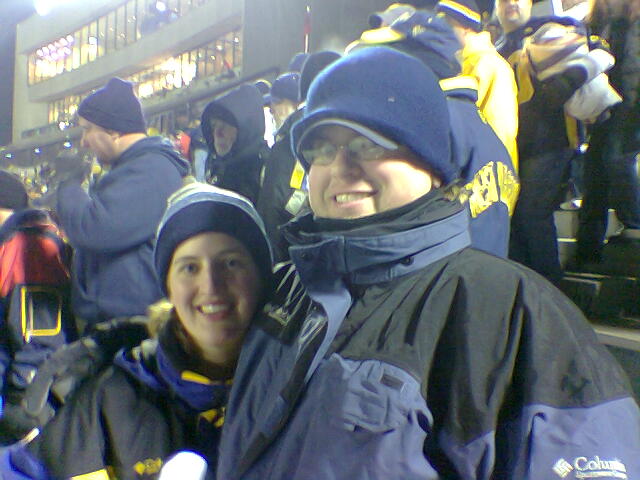 The last time I saw the Mountaineers was at the 2007 Spring Game. You'd think spring games would be warm, you might need a sweatshirt. Nope, not at WVU. It turned out to be a blizzard. The cold weather at the Rutgers game was to be expected, it was a night game in December. However, the spring game this year was on April 7th. Go figure. Here's a picture of Dirty Al, Al, Dick, and James (left to right) at the tailgate.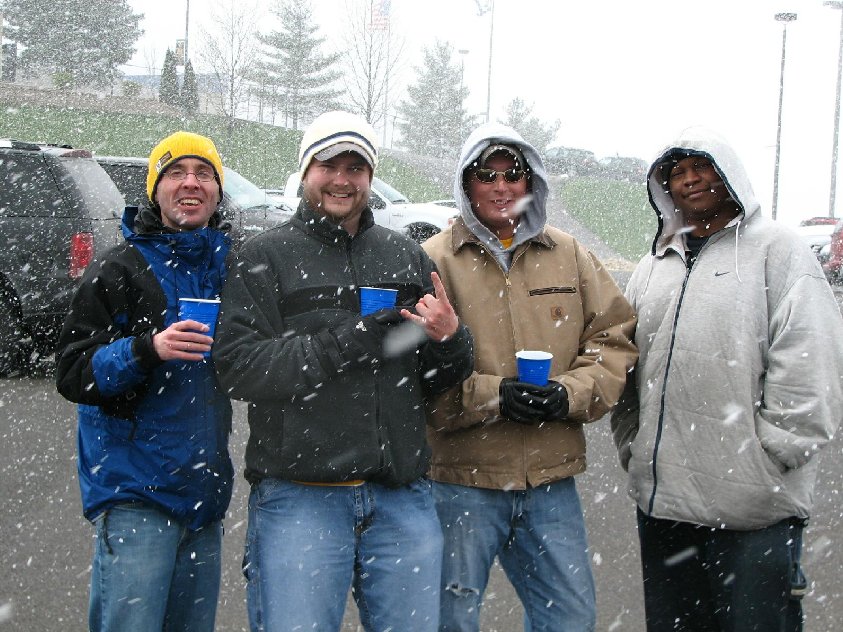 Here's hoping Saturday's weather is better. Let's Go Mountaineers!!
I've had my Dell Inspiron 8500 for over 4 years now. It's been pretty solid, but it is starting to show it's age. Saturday night I booted it up, I could tell that it had booted successfully, but the screen never fully turned on. It faded from white to gray and back, over and over. I went to another computer on my network and was able to ssh into my laptop, so I knew it was up and running.
I got on google in hopes that there was an easy fix and that I wouldn't have to spend a lot to do it. I found Shandy's Blog. He had the same problem. Apparently this is a fairly common problem caused by the button that detects if the laptop's screen is open or closed. It will get stuck in the closed position.
Shandy gave a free fix. Pop the top of the keyboard off, re-seat the button, put it all back together. This is easier than it sounds. It doesn't even require a screw driver. It took about 5 minutes to complete the entire process and I was back up and running again.
I was kind of wishing I had taken some pictures to document the process. Well, I got a 2nd chance today. When I got home from work today the button was stuck in the closed position again. I took pictures this time.
Here's a picture of what the screwed up screen looks like, white with black and gray streaks. The streaks move, sometimes they disappear and I only have a white screen. It varies from being super bright to dim.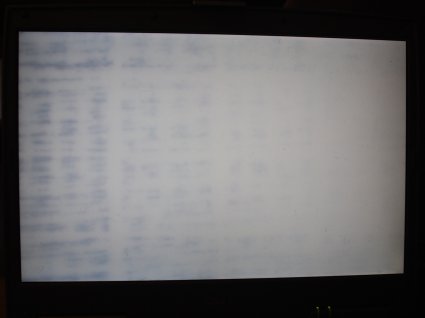 This is a picture of the button. Notice how it's sticking out at an angle. You'll see why next.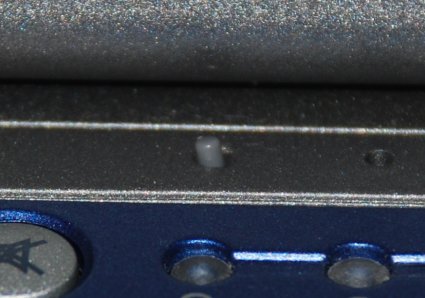 After popping off the blue strip of buttons at the top of the keyboard, I found out why the button was stuck. The yellow square shows where the switch is. Click on the image for a bigger version.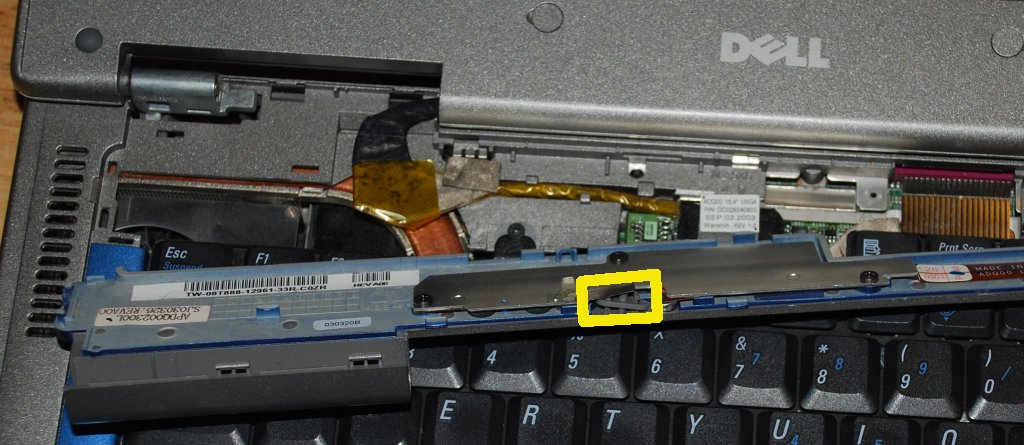 Here is the switch after re-seating it.


These are two pictures of it reassembled. Notice the button is now straight, and is sticking out further.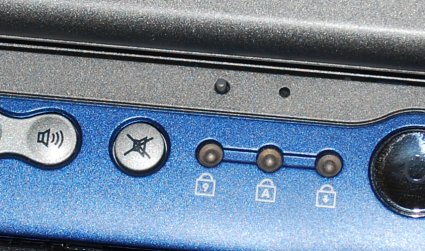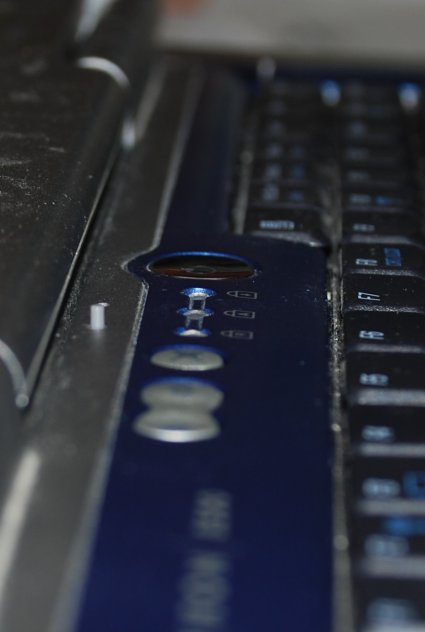 Success! Back at the login screen.