This time tomorrow I'll be at the WVU vs Auburn Football game. I honestly don't know how it will turn out. Both teams have sub par offenses and great defenses. Both teams were ranked at the beginning of the season, and now neither are. WVU and Auburn have never played football against each other, so we can't look at past performance.
My prediction is that if WVU's offense can click the game won't be close. If they don't click, it will be a low scoring game and a defensive battle.
The game will also be a "Gold Rush." This is where WVU tries to get everyone to wear gold. It does look impressive on TV. Here's a screen grab some one on the bluegoldnews.com forums posted of last year's Gold Rush. I'm going to try and get a HDTV screen grab of this year's game.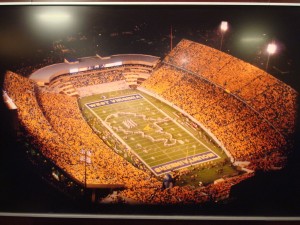 Here's hoping everything goes as planned tomorrow. After all, I did beat Auburn 84-0 on the PlayStation last week.