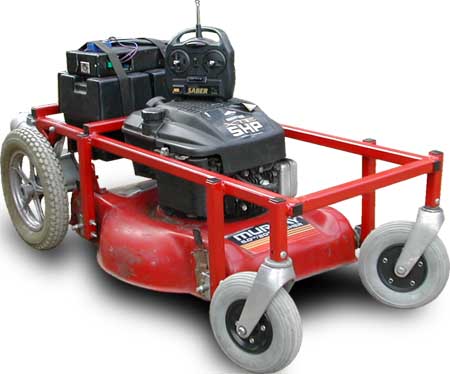 I think my least favorite thing to do in the world is mow the lawn. Apparently I'm not the only one. I came across this page detailing how to make your own remote controlled lawn mower. This would be great!
Maybe this will be my spring project, converting my mower into an RC mower. Think of how freaked out Vandy would be. I wonder if it could handle the hills in my yard.
A project with this kind of disclaimer sounds like my kind of project:

DISCLAIMER - THE METHODS OF CONTROLLING AN UNMANNED VEHICLE DETAILED BELOW ARE POTENTIALLY LETHAL. YOU CAN KILL SOMEONE, AN ANIMAL OR A ROSE GARDEN IF YOU ARE NOT CAREFUL. I ACCEPT NO RESPONSIBILITY FOR LOSS OF LIFE, BEER PRIVILEGES OR SEX FOR CONSEQUENCES THAT ARE BEYOND MY CONTROL. IF YOU DECIDE TO BUILD A MOWER LIKE MINE YOU DO SO AT YOUR OWN RISK. BY BUILDING THE PROJECTS STATED BELOW YOU ARE ACKNOWLEDGING THAT IT IS ONLY YOUR FAULT IF SOMETHING GOES WRONG.

Here's a youtube video of it in action: